Top Story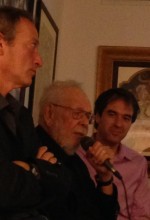 10/30/2014 By Beat Staff Leave a Comment
by Nicky Wheeler-Nicholson Just before the mad crush of New York Comic Con a crowd of comic book royalty gathered at the Society of Illustrators in Manhattan to hear a stellar panel talk about Heroes of the Comics, Drew Friedman's wonderful book featuring some of the best and least known artists, publishers and writers who […]
TOP COMICS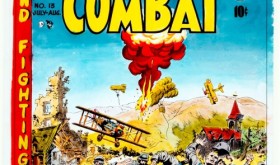 10/30/2014 By Heidi MacDonald Leave a Comment
Here's one of those matters where there are really no winners. J. David Spurlock, the publisher of Vanguard Publishing which puts out books about comics history and such artists as Frank Frazetta and … [Read More...]
Most Recent Articles

10/29/2014 By Heidi MacDonald Leave a Comment
While digital comics have changed the medium for good, individual comics apps haven't really taken off as much as you might think. But there are some good ones out there: Comic Chameleon is a webcomic aggregator that actually picks up popular webcomics like  Questionable COntent, Girls with Slingshots and the like. And with permission. They've been […]

10/29/2014 By Heidi MacDonald 13 Comments
Feeling a little overwhelmed by the vast movie slates announced by Sony, Marvel and WB? So are we, but here's a chart helpfully put together by our own Tireless Torsten Adair and edited by the Beat that shows 58 superhero, comic book, cartoon, Star Wars and Harry POtter movies between now and the next US Census.

10/29/2014 By Heidi MacDonald Leave a Comment
Veteran comics writer James Hudnall, writer of Harsh Realm, ESPers, The Psycho and currently Blue Cat in Aces Weekly, has fallen on some difficult times and will lose a foot to a diabetic ulcer. I have no idea if Hudnall is insured or not, but he's sure to lose a few weeks of work and has set up a fund called Get James Hudnall Back on His Foot to help him over this period. He had recently moved to Austin and was not prepared for this financially.

10/29/2014 By Heidi MacDonald 3 Comments
Truly one of the busiest men in comics, Chris Butcher has been leading a triple life for the last three years. Not only has he worked at the innovative, industry leading retailer The Beguiling, he's been the show runner for the industry leading Toronto Comic Arts Festival. And in his SPARE TIME (!) he was the Marketing Director for UDON Entertainment, the art studio and publisher of many video game and manga art books. But…no more, as Butcher is leaving his post at Udon:

10/29/2014 By Heidi MacDonald 1 Comment
Word has reached us that popular editor Carol Burrell has left her post at Abrams ComicArts. Burrell was previously at Lerner Graphic Universe where she helped them launch their entire graphic novel line; she recently helped shepherd Sing No Evil by JP Ahonen and KP Alare and Warren Commission Report: A Graphic Investigation into the Kennedy Assassination by Dan Mishkin, Ernie Colon and Jerzy Drozd to publication. I'm sure she'll be busy applying her skills to some other publisher soon, but maybe if she has some spare time she can get back to her webcomic SPQR Blues?

10/29/2014 By Heidi MacDonald Leave a Comment
The last New York show of the year is on its way with Comic Arts Brooklyn taking place November 8-9th and this year the festival will be associated with several art shows and exhibits which all pretty top notch, including a very rare appearance by Julie Doucet, an Al Jaffee art show, a repurposed animation cel show and an exhibit of work by the Finnish collective Kutikuti. All FREE! Here's all the dates and times:

10/29/2014 By Heidi MacDonald Leave a Comment
Comica is going on in the UK right now, a month long celebration of comics and graphic novels with a ton of event and art exhibits which you can see in the link. and here's another one; S.M.A.S.H. a series of three panels discussing various aspects of the art form. It sounds great—if we were in London on November 15th this is where we'd be. Info:

10/29/2014 By Beat Staff 6 Comments
Where to even start?
By Chandler Banks– Kelly Sue DeConnick is a long time hero of mine. I met her at NYCC this year, and my heart melted when she looked me in the eyes and talked to me about the importance of non-compliance (that's a big thing in her upcoming series, Bitch Planet). She's important to me, and her characters are so dear to my heart I wear a Captain Marvel necklace every day.

10/29/2014 By Heidi MacDonald 3 Comments
We haven't done a ton of solicitation listings at the Beat recently, but it's something we're going to start up again, because…well, look at all the nice art. Here are the #1s and the Kaboom and Boombox titles from Boom's January solicitations—new creator owned titles include Feathers, a smart looking new kids title, and Burning Fields, a caper with a burning Iraqi oil field as the setting.
Also here are all the KaBOOM titles for January with as many variant covers as have been released by some funky fresh artists like Ian McGinty, Lorena Gomez and Christine Larsen.

10/29/2014 By Heidi MacDonald Leave a Comment
More Marvel footage unless you are totally over it already.

10/28/2014 By Beat Staff Leave a Comment
by Edie Nugent The main stage spectacles of NYCC saw panels filled with celebrity actors and moderators alike, whipping thousands of screaming audience members into a frenzy. No less intense or enthusiastic, however, were the panels scheduled towards the end of the night in the smaller conference rooms at the Javits Center. Once such panel—Geeks […]

10/28/2014 By Beat Staff 1 Comment
I was lucky enough to come across the Kickstarter for indy anthology Imaginary Drugs earlier this year. I received my PDF copy a few months ago and it was an entertaining, eclectic piece of comic book entertainment with a wide variety of talented writers, artists, colorists and letterers. IDW even ended up picking it up and is […]

10/28/2014 By Heidi MacDonald 7 Comments
WHOA — Marvel really did announce a Captain Marvel movie for 2018, and Black Panther for 2017, with Chadwick Boseman (42) joining Robert Downey Jr and Chris Evans on stage.
Today's Marvel presser was roundly liveblogged, and it was apparently a tumultuous event at the Disney owned El Capitan theater. The entire Stage 3 line-up was announced and it goes like this:

10/28/2014 By Heidi MacDonald Leave a Comment
I'm pretty sure we've posted some of Eric Haven's creepy cool Mancat comics before. But not it's all being collected by AdHouse, in UR. The publisher describes these comics as "Dark, absurdist, and deadpan, these stories reflect the apocalyptic undercurrent of the modern era. Also included is Haven's long-running comic strip "Race Murdock" which appeared in The Believer magazine."
Haven is among those cartoonist's whose work is just inherently spooky. In the past his work has appeared in various anthologies, but when he isn't cartooning he's producing the TV Show Mythbusters. A real hyphenate for the season.

10/28/2014 By Heidi MacDonald 2 Comments
There was a time not too long ago when you could fit all the "women in comics" at a big table in a coffee shop. Now there re more than 300 women who just work in comics shops. That's the membership of The Valkyries, a private organization for female comics retail employees. and it turns out the group has been instrumental in promoting a coupld of books that have had great success this year, namely Saga and Lumberjanes. Janelle Asselin interviews group founder Kate Leth for all the details: