Top Story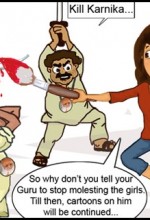 08/21/2014 By Heidi MacDonald Leave a Comment
Michael Cavna has details on the winners of this year's Award for Courage in Editorial Cartooning presented by the Cartoonists Rights Network International. The award is presented to "a cartoonist in great danger who has demonstrated exceptional courage in the exercise of free-speech rights under extraordinary circumstances." The winners this year are Kanika Mishra from […]
TOP COMICS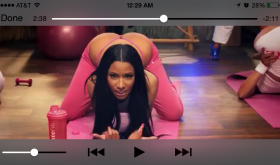 08/21/2014 By Heidi MacDonald 1 Comment
Yesterday the enduring appeal of the human female rump as an object of sexual desire was reaffirmed in two separate incidents. https://www.youtube.com/watch?v=LDZX4ooRsWs Rapper Nicki Minaj released … [Read More...]
Most Recent Articles

08/20/2014 By Beat Staff 2 Comments
The Best of Comix Book: When Marvel Went Underground is in B&W/  and Full color, HardCover  an exclusive Kitchen Sink Press imprint under Dark Horse  ISBN:978-1-61655-258-9 Intro by Stan Lee Forward by Denis Kitchen Designed and Edited by John Lind by Pam Auditore Tall, affable, plain spoken Wisconsinite, Denis Kitchen smiles wistfully, "I loved putting this collection together.  It's a nice […]

08/20/2014 By Heidi MacDonald Leave a Comment
Youth in Decline's flagship publication is Frontier, a slim but essential Risographed book featuring the work of one cartoonist. Past issues have spotlighted Uno Moralez, Hellen Jo, Sascha Hommer, Ping Shu and now Sam Alden. And here's the cover. The issue goes on sales at SPX and will feature a new 36-page comic by Alden. […]

08/20/2014 By Todd Allen 2 Comments
Dynamite is launching their own digital comics store today.  The comics will DRM-Free, which makes DRM-free the new (and welcome) trend in digital.  And just because they can, they're launching with some $0.10 comics and 10% of all digital sales for the first month will be donated to the Comic Book Legal Defense Fund.

08/20/2014 By Heidi MacDonald Leave a Comment
Well it wasn't really enormous, but it is bigger than an ant. Yet it does not show star Paul Rudd as Ant-Man but rather as brooding hoodie man. A white man in a hoodie. Safe as houses. Anyway, according to an UNUSUALLY excited press release from Disney, Ant-Man just went into production with Peyton Reed […]

08/20/2014 By Heidi MacDonald 2 Comments
As reported yesterday, the Ice Bucket Challenge fad is hitting comics and it's spreading like wildfire. The viral fad involves having a bucket of ice dumped over you to create more awareness of ALS — Amyotrophic lateral sclerosis— a "progressive neurodegenerative disease that affects nerve cells in the brain and the spinal cord" and can […]

08/20/2014 By Heidi MacDonald 1 Comment
These comics-based Humble Bundle's continue to do very well. a Boom! bundle is wrapping up a few hours from when you read this already having raised more than $242,898.07 with 23,784 purchases. Charity proceeds benefit the CBLDF. Hurry up and you can still get all the following:

08/20/2014 By Heidi MacDonald 5 Comments
§ It seems a bunch of folks missed out on the Party Central main hotel for SPX. The Comics Reporter has info on the back up hotel. It's true that one of the things that makes SPX so much fun is everyone being in one clubhouse but I think starting the day with a brisk 3/4 mile walk has its benefits as well.

08/20/2014 By Heidi MacDonald 6 Comments
NERD COMPUTER ALERT! I know computer stuff isn't entertaining but I like writing out my experiences just for Google. I got my laptop back! You may recall that my MacBookPro died just before Comic-Con. A recovery of my files prior to hard drive replacement was made more difficult by the fact that all the folders […]

08/20/2014 By Beat Staff 2 Comments
  By Harper Harris Farel Dalrymple, best known for his work on the alternative comics series, Pop Gun War at Dark Horse and his contributions to Brandon Graham and Simon Roy's Prophet for Image (drawing the "John Prophet with a tail" chapters) has recently received critical raves for his latest original graphic novel: The Wrenchies for […]

08/19/2014 By Heidi MacDonald 16 Comments
With Sin City 2 finally opening this weekend, creator and co-director Frank Miller is making the PR rounds, speaking out at length publicly for the first time since The Spirit, which he directed, was extremely poorly received and his incendiary Occupy comments. First up was a very nice front page of the Arts & Leisure piece in the Sinday Times — which is as close to anointment as a cultural figure as it gets. There was a polite Dave Itzkoff profile (ALERT: I am quoted in the piece):

08/19/2014 By Heidi MacDonald 1 Comment
ICv2 has a new report on the size of a market, this time the hobby game market—games like Magic, Warhammer,various card capture games, D&D and so on which he estimates as being a $700 million industry — not far below the comics industry size of $870 million. : Here's the pr: Pop culture experts ICv2 […]

08/19/2014 By Heidi MacDonald 1 Comment
Cartoonist MariNaomi is starting a database of cartoonists of color (COC) and you can upload your details as explained in the link. There's a FAQ: What is a Cartoonist of Color? Cartoonists of Color (COC) is a play off of the acronym "POC." POC stands for "person of color." A POC is anyone who identifies […]

08/19/2014 By Heidi MacDonald 5 Comments
Before Marvel became the toast of tinsel town, there were some pretty dreadful Marvel-based movies—and I'm not just talking Howard the Duck. Dolph Lundgren starred as The Punisher in 1989, but the movie got only a very limited theatrical release. A 1990 version of Captain America starring JD Salinger's son, Matt, was so bad it […]

08/19/2014 By Heidi MacDonald 2 Comments
Post by Billy Tucci. So far, I've only found one — Billy Tucci! Tragically, Tucci did not call out other comics folks, so the charity meme has not yet spread to out part of the world. But let's give Billy a hand for doing it! In case you missed it, the ice bucket challenge is […]

08/18/2014 By Brad Ricca 1 Comment
If you've been reading Marvel's latest summer event series Original Sin, you know that (spoiler alert) the Watcher is dead. Uatu will no doubt return someday. Until then, I wonder how many Marvel writers are furious. I would be. The Watcher is the perfect cliffhanger. Spider-man: "Hey Shocker, this is just a run-of-the-mill bank heist, […]