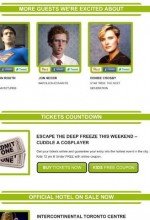 03/10/2014 By Heidi MacDonald Leave a Comment
Over the weekend there was a kerfuffle or two! Are you shocked?
These involved comic cons which had promotions that seemed to forget that about 40% of the con going audience is now female.
TOP COMICS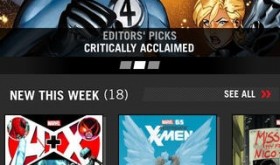 03/10/2014 By Heidi MacDonald Leave a Comment
Marvel announced some improvements to its AR app at SWSXi yesterday, including finally adding the audio components it talked about last year. It also has improved the panel flow and the AR extras will … [Read More...]
More Stories

03/10/2014 By Heidi MacDonald Leave a Comment
Most Recent Articles

03/08/2014 By Heidi MacDonald Leave a Comment
With seemingly everyone putting on a comic-con, as business booms and it seems like easy money, we're finding more and more people who bit off perhaps a bit more than they could chew, and/or got into things for the wrong reason. The alleged Kickstarter embezzlement at River Con, the co-founder squabbles at Denver Comic Con, […]
03/07/2014 By Heidi MacDonald Leave a Comment
Hey kids, two shows coming up this month, First: Middle Georgia Comic Convention 2014 This is a BRAND NEW SHOW, held March 15-16 at the Macon Centerplex in Macon, GA. I have NEVER been to Georgia before so this will be a first. Other guests include Mark Bagley, Colleen Doran, Francesco Francavilla, Brian Stelfreeze, Justin […]

03/07/2014 By Heidi MacDonald Leave a Comment
New York's MoCCA Festival kicks off on April 5 &6 at the Lexington Armory,and the key art by guest Fiona Staples has just been released. It's a take off on Breughel's classic Tower of Babel imagery except with flying carpets. That's how MoCCA always feels to me. Along with Staples, Howrd Cruse, Robert Williams and […]

03/07/2014 By Heidi MacDonald Leave a Comment
When Marvel's Lauren Sankovitch left Marvel to pursue West Coast job ops, we were all sad to be losing a fine comics editor. Happily she is still keeping a toe in the game, as this release from the CBLDF reveals that she'll be editing this year's Liberty Annual, a fund-raising anthology published by the fund each year. So yay for Lauren! WE may hear her karaoke yet again!

03/07/2014 By Kate Fitzsimons 1 Comment
Straight from the offices of Publishers Weekly, it's More to Come! Your podcast source of comics news and discussion starring The Beat's own Heidi MacDonald. In this week's interview special, Publisher's Weekly's Calvin Reid interviews indie comics master Dean Haspiel about his beginnings as well as his latest work, including The Fox from Archie Comics […]

03/07/2014 By Heidi MacDonald 2 Comments
Map of Days

03/07/2014 By Heidi MacDonald 5 Comments
Nine years after the first SIN CITY created a whole new look for the movies, the first trailer for the sequel has been released. Starring Josh Brolin, Mickey Rourke, Jessica Alba, Rosario Dawson, Jaime King, Joseph Gordon-Levitt, Dennis Haysbert, Jamie Chung, Bruce Willis, Eva Green, Julia Garner, Ray Liotta, Juno Temple, Jeremy Piven and Stacey […]

03/07/2014 By Heidi MacDonald Leave a Comment
I'm happy to report that Sequart's SHE MAKES COMICS documentary has been fully funded and reached a first stretch goal of making a special 15 minute mini-documentary about Jackie Ormes, the first black woman cartoonist. The film will be directed by Marisa Stotter, and co-produced by Karen Green, and include an oral history of women […]

03/07/2014 By Heidi MacDonald 26 Comments
I know everyone is tired of the dumping on Agents of SHIELD but Tuesday's big episode had the lowest ratings yet for the show. Whoops. The 1.7 rating was down 23 percent from 2.2 for the previous episode. You got some heavy lifting to do, Sif. It's worth remembering that as rousingly entertaining as they […]

03/07/2014 By Heidi MacDonald 9 Comments
It is not every day you see Fantagraphics associate publisher Eric Reynolds and legend Abe Vigoda in the same place (as seen on Reynolds' FB page.). But it happened last night at the Society of Illustrators opening for Drew Friedman's Old Jewish Comedians show. Also in attendance: Gilbert Gottfried, Paul Shaffer, Robert Klein and JAY […]

03/06/2014 By Heidi MacDonald 1 Comment
Okay this is an ad for Ikea, but it is also a fantasy for most of us. Like, a Sex in the City/Axe ad level fantasy.

03/06/2014 By Heidi MacDonald 12 Comments
In a letter to users this morning, ComiXology announced they have suffered a security breach, as stated in a letter that went out to users this morning. Unfortunately, the rush to go and change passwords led to the site getting swamped, however, I just went and did it in two seconds so I guess things […]

03/06/2014 By Beat Staff 3 Comments
By Matt O'Keefe Since 2008 Jeff McComsey has been immersed in all things FUBAR. The New York Times best selling zombie series has consisted of three anthology-style graphic novels and a number of individual issues. In September Jeff ran a wildly successful Kickstarter for Mother Russia, the first FUBAR graphic novel to feature one extended story. I talked to him […]

03/06/2014 By Heidi MacDonald 13 Comments
GoodEReader is site that often has interesting digital news, but it just posted an alarmist article called Marvel Phasing out Retail Comic Distribution to Focus on Digital, which frankly is just wacky.

03/06/2014 By Heidi MacDonald 6 Comments
Dennis Barger Jr. of Wonderworld Comics in Detroit is known as one of the more…idiosyncratic comics retailers out there. He's still resolutely anti-digital for instance, and holds many other opinions hat a lot of people disagree with. On his FB page he recently mentioned that he and some other retailers were planning their own retailing […]