Top Story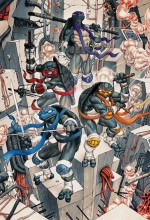 10/20/2014 By Heidi MacDonald Leave a Comment
§ Congrats to Fantagraphics publisher Gary Groth for winning the Stranger's Genius Award for Literature. Many would say Gary is strange, many a genius so it all cosmically came together. The Stranger is Seattle's resident culture paper, and each year it gives out its Genius Awards. Groth prevailed over Ms. Marvel's G. Willow Wilson and […]
TOP COMICS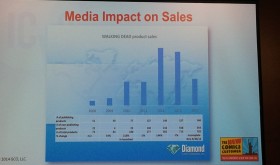 10/19/2014 By Torsten Adair 6 Comments
While most comics fans started New York Comic Con on Thursday, the die-hard industry insiders and watchers began their "con crush" on Wednesday. ICV2.com once again hosted their annual conference at … [Read More...]
More NEws

10/20/2014 By Heidi MacDonald Leave a Comment

10/18/2014 By Torsten Adair 1 Comment
Most Recent Articles

10/17/2014 By Beat Staff Leave a Comment
By Matthew Jent The Rise of Aurora West Written by JT Petty and Paul Pope Art by David Rubin Published by First Second "You don't have to attack what's attacking you." At this year's San Diego Comic-Con, Paul Pope appeared on a panel called "Middle Grade Extravaganza," which discussed comics for a younger audience. […]

10/17/2014 By Heidi MacDonald Leave a Comment
Yikes for today's Marvel mystery event thing we go all the way back to the 80s! Before there were Events!!! Armor Wars, by David Michelinie and Bob Layton, was one of the original golden age of Iron Man storyline and showcased Tony Stark's penchant for being a hoarder with his armor suits as being a bad thing.
The current promo, by Steve Pugh, shows a bunch of different Stark Armors, including a mecha-szed one blowing a hole through the face of the Statue of Liberty. Nice one, Tony. Also shown: the Hulkbuster armor, West Coast Avengers-Iron Man and more.

10/17/2014 By Heidi MacDonald 1 Comment
Hm let's see, we need an ambassador of comics who can work with schools, educators and more to show how comics can contribute to literacy and learning. We need someone who is smart, distinguished and universally loved…
I know! Let's get Dave Gibbons!

10/17/2014 By Heidi MacDonald 4 Comments
While the harassment problems seems to have been put under control, by and large, there are a rather alarming number of reports of theft from the show, including this one, about a hand painted "Dunny" statue worth $2000 being stolen from a booth. The culprit was caught on tape taking the items at 7:25 after the show closed and fled on foot. I also saw tweets indicating that writer Amy Chu's laptop was stolen, and there's a report of an artist having some pages stolen as well.
Thievery doesn't invite the same kind of "they were asking for it" response as other kinds of claims, but unfortunately, these incidents are a reminder that leaving valuable things lying around is not a good idea at a crowded con. It's also a sad comment on an otherwise peaceful crowd.

10/17/2014 By Heidi MacDonald Leave a Comment
The longest running stand alone school to teach cartoonist is having an open house tomorrow from 1-4. Prospective students will meet faculty and get a tour. Open houses at The Kubert School are a great way to learn about the school and program. Any prospective student and their family is welcome to attend. A tour of the […]

10/17/2014 By Heidi MacDonald Leave a Comment
The British Comic Awards have announced their short list of nominees and that the great Posy Simmonds will be inducted into the hall of fame. The nominees were selected by the BCA Committee based on suggestions from the public and winners will be chosen by a panel consisting of Jonathan Entwistle, Jessica Hynes. Danny John-Jules (yes The Cat from Red Dwarf!), Jonathan Ross and Suzy Varty. Winners will be announced November 15th at Thought Bubble.

10/17/2014 By Beat Staff 2 Comments
By Nicky Wheeler-Nicholson Attending a comic Con is one of the few events in our culture that offers the opportunity to meet favorite artists and writers. You can purchase a small or large piece of original art most of which is reasonable in price. Without the work of these talented people there would be no […]

10/16/2014 By Beat Staff Leave a Comment
by Zachary Clemente In the incredibly crowded Artist Alley of New York Comic-Con, I sat down with illustrator Wes Craig to talk about his work on Blackhand Comics and Deadly Class, both published in print by Image Comics. His work exhibits some of the most exciting paneling structures and dynamic representation of motion, at least to me. I'm pleased […]

10/16/2014 By Heidi MacDonald Leave a Comment
Return with us to the simpler times of 2006. Miley Cyrus was an innocent young girl, everyone was racing to theaters to see Pirates of the Caribbean, and people wondere dif soccer would ever catch on in the US was the World cup was held in Germany. And the Hulk went to a faraway planet where […]

10/16/2014 By Heidi MacDonald Leave a Comment
In our cartoonists getting plaudits corner this week, Roz Chast has made the five book short list for the National Books Awards for her exemplary Can't We Talk About Something More Pleasant? which deals with the twilight years of her hilarious, annoying and lovable parents. She is entered in the non-fiction category and it is the first adultcomic, and only the third graphic novel over all to ever make the NBA lists. The entire category:

10/16/2014 By Beat Staff 4 Comments
by Nicky Wheeler-Nicholson — One of my favorite events at New York Comic Con was the Thursday night tribute and presentation to Irwin Hasen, 96 years old. Irwin has been drawing comics since 1940 beginning at Harry A. Chesler's shop and then going on to DC drawing The Green Hornet, The Flash, Wonder Woman, the Green Lantern and creating Wildcat. Irwin then went on to co-create the long-running newspaper strip Dondi. Irwin is much loved and revered in the comics community and it was a poignant moment for all of us there to see him honored.
10/16/2014 By Heidi MacDonald 2 Comments
A group has formed in San Francisco to discuss bringing a comics festival to SF, currently bereft of comcis event with the move of WonderCon to Anaheim and soon APE to San Jose. The group has called for a town hall meeting on Monday, October 20th:

10/16/2014 By Leave a Comment
Drifter #1 [Advanced Review]: The Sky is Full of Stars and Mysteryhttp://ift.tt/1DdMxYb by Zachary Clemente Written by Ivan Brandon,Art & Colors by Nic Klein, Letters by Clem Robins, Design by Tom Muller, Edited by Sebastian Griner, Published by Image Comics. Mankind's colonization of the galaxy has left countless planets mined bare and lifeless. A space transport crashes onto a backwater world […]

10/15/2014 By Beat Staff 3 Comments
by Zachary Clemente Written by Ivan Brandon, Art & Colors by Nic Klein, Letters by Clem Robins, Design by Tom Muller, Edited by Sebastian Griner, Published by Image Comics. Mankind's colonization of the galaxy has left countless planets mined bare and lifeless. A space transport crashes onto a backwater world whose unique properties set the stage for a story that combines the […]

10/15/2014 By Leave a Comment
Star Wars Comics Bundle debuts from Dark Horsehttp://ift.tt/1u5TJ1D Look at the size of this thing! There are so many puns to be made and this Humble Bundle pr makes the most of them. And while Marvel may be publishing Star Wars now, Dark Horse has a mighty backlist of Star Wars classics. Sp get in […]