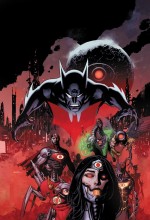 12/12/2013 By Heidi MacDonald Leave a Comment
It's a rite of Spring. Every May people race to the comics shop for the annual comic book holiday—Free Comics Book Day. In 2014, the free comcis are set loose on Saturday, May 3rd, and Diamond has just released information on the Gold Level Sponsor books, including the debut of DC's Futures Past, and a […]
TOP COMICS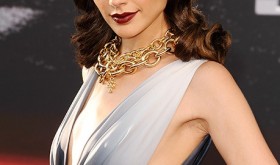 12/12/2013 By Brett Schenker 6 Comments
With the announcement of Gal Gadot as Wonder Woman by Warner Bros., I wondered just how popular is Wonder Woman around the world and more interestingly, in each country. With there being over 200 … [Read More...]
More Stories

12/12/2013 By Heidi MacDonald Leave a Comment
Most Recent Articles

12/12/2013 By Heidi MacDonald Leave a Comment
GØDLAND #37 by Joe Casey and Tom Scioli is out this week, and just in case you didn't pick it up yesterday, here's some art that will make you change your mind. This last, double-sized issue comes out over a year since issue #36, and so long after the book debuted in 2005. I think […]

12/12/2013 By Heidi MacDonald 18 Comments
§ Great news! Israeli cartoonists Rutu Modan and Yirmi Pinkus have launched a line of kids comics. Over the years, they have developed their skills and their creations now range from graphic novels to books of prose for adults. They both teach visual communications: Modan at Bezalel and Pinkus at the Shenkar School of Engineering […]

12/11/2013 By Heidi MacDonald 1 Comment
People just can't stay away from publishing comics. The merriment is infectious! And a new publisher is aiming to create "stories that stick."
Two former comics industry veterans—former VP of Publishing for Boom Studios, Wes Harris, and former Publisher of Archaia Entertainment, Mike Kennedy—have caught the fever and teamed up to co-found Magnetic Press, which will roll out titles in 2014 including Dave Dorman's WASTED LANDS, JD Morvan and Bengal's NAJA and MEKA, F. Ruiz Velasco's CULEBRA and LEGION OF BLOOD, Caio Oliveira's SUPER-EGO, PROPHET HILL, and VIVID, Francisco Paronzini's HUGOBROYLER, and Lucas Marangon's THINKING OUT LOUD. 

12/11/2013 By Steve Morris 3 Comments
One of Dynamite's big announcements this year was the imminent revival of their Gold Key Properties – with four titles relaunching as a result. This will see Doctor Spektor, Magnus: Robot Fighter and Solar: Man of the Atom relaunch next year with new creative teams and their own mini-universe. The fourth series announced, with Greg […]

12/11/2013 By Heidi MacDonald 7 Comments
WOW. This is truly groundbreaking information. Mirthful culture Magazine The Devastator recently ran a poll asking exhibitors at various comics shows—from San Diego to SPX—how much money they made, where they exhibited and many other things. The results have been put into a fascinating infographic which we've only excerpted below. Go to the link to see ALL the info, including which shows made the most money, which are in decline and so on.

12/11/2013 By Steve Morris 2 Comments
For the past few years, 2000AD have held a talent competition at Thought Bubble, with the winner getting the opportunity to illustrate a story for publication in the prog itself. Last year saw Will Morris take the victory, as part of his sweep of 2012/2013 which saw him ultimately win the British Comic Award for […]

12/11/2013 By Steve Morris 10 Comments
Kicking off a new charity campaign, Archie Comics and Random House have teamed with Toys For Tots, and given away free comics to children this Christmas. Coming as part of the Toys for Tots Literacy Program, this is a part of 'Archie's Give-A-Book Campaign'. Toys For Tots is a not-for-profit charity which takes new unwrapped […]

12/11/2013 By Heidi MacDonald
Edward Snowden's leaked paper have released a lot of bombshells but none as big as this: the NSA sent agents to play World of Warcraft and Second Life in search of terrorist threats. You have to admire these agents for their dangerous immersion in worlds of trolls, night elves and avatar dress shops to keep […]

12/11/2013 By Heidi MacDonald 1 Comment
After several years paired with the C2E2 show in Chicago, Damond is going to Vegas, baby, for its 2014 REtailers Summit. The event will be held May 17-19, 2014. "We're excited to bring the Summit back to Las Vegas," said Maryanne Marlowe, Diamond's Trade Show and Events Manager. "We had a great run in Chicago […]

12/11/2013 By Heidi MacDonald 16 Comments
What ever happened to Frank Miller? In its weekly retailer advisory, DC announced that hes variant cover for the jumbo size celebratory Detective Comics #27 has been cancelled. ICv2 reports that his XERXES sequel won't be out in time for next year's 300: RISE OF HTE EMPIRE movie. While two issues of XERXES have been […]

12/11/2013 By Heidi MacDonald Leave a Comment
The great Jill Thompson brings the Seuss on her Tumblr. What has Jill Thompson been working on anyway? Besides a new Beasts of Burden? Every time we saw her all summer she had some secret project she couldn't talk about. The first page, which we managed to sneak a look at, had an island on […]

12/11/2013 By Heidi MacDonald 7 Comments
DC is getting back into the weekly thing later this spring with a Batman weekly comic, and they've just announced Futures End, which will feature writers Jeff Lemire, Keith Giffen, Brian Azzarello and Dan Jurgens and artists including Ethan Van Sciver, Jesus Merino, Aaron Lopresti and Jurgens, among others. Among the characters being explored; Batman […]

12/11/2013 By Heidi MacDonald 3 Comments
§ Congrats to Beat alumna Hannah Means-Shannon on being named editor-in-chief of Bleeding Cool. Poor Rich Johnston—writing for the site less than a year and she's already taken it over. Seriously, congrats to Hannah, who is one of the hardest workers I know. Avatar Press's Editor-in-Chief William Christensen explains, "Hannah is simply the only candidate […]

12/11/2013 By Heidi MacDonald 8 Comments
Former DC publisher Jenette Kahn isn't mentioned too much around comics these days, but was undoubtedly a pioneering force in comics, helping shepherd in royalties, creator owned comics, Vertigo, Watchmen and many other important things. These days she's making movies, but here's a hour long interview with her that was conducted recently at the Chicago […]
12/10/2013 By Heidi MacDonald 40 Comments
Finally, a look at the new "remastered" MIRACLEMAN #1 by Alan Moore (name removed at his own request so credited as THE ORIGINAL WRITER) and Garry Leach with Mick Anglo along for the ride. The new Marvel edition has modern computer coloring on some pages which leaves the art, if anything, flatter than the original, […]