Top Story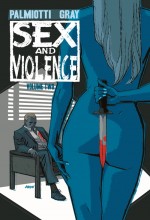 09/19/2014 By Heidi MacDonald 2 Comments
Everyone should "Listen to JImmy" Palmiotti that is. The veteran writer, artist editor and publisher is one of the most knowledgeable comics people out there. With his collaborators from Paperfilms, Justin Gray and Amanda Conner, he's made a small publishing enterprise out of kickstarting a series of graphic novels based on the European album format. The seventh, Sex and Violence Vol. II is ending in a few days and we advise you to get in on the Amanda Conner/Dave Johnson action as soon as possible — the books will not be sold in any other way. We talked to Palmiotti a few months ago when he was Kickstarting the SF tale Denver and got his overall thoughts on using Kickstarter as a platform. This time out we talk about the storytelling process,finding artists and also find out how Harley Quinn, which he co-writes with Amanda Conner, has become one of DC's bestselling titles, with a huge female fan base.
TOP COMICS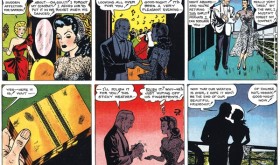 09/19/2014 By Heidi MacDonald Leave a Comment
Lisa Hix of Collectors Weekly sat down with Trina Robbins and runs through a few chapters of Robbins' Pretty in Ink, her third history of women cartoonists. The result is an immense article that could … [Read More...]
More News

09/19/2014 By Heidi MacDonald Leave a Comment

09/19/2014 By Heidi MacDonald Leave a Comment
Most Recent Articles

09/19/2014 By Heidi MacDonald Leave a Comment
And here's another great event for the weekend, Brandon Graham talking about Comics, Creativity, and Censorship at the Society of Illustrators/ The event is sponsored by the CBLDF. Brandon Graham, the acclaimed cartoonist of the highly influential graphic novels King City and Multiple Warheads, and the driving force behind the genre-bending science fiction series Prophet […]

09/19/2014 By Heidi MacDonald Leave a Comment
The week between SPX and the Brooklyn Book Festival s usually crowded with events and this is no exception. Tonight, things kick off at Bergen Stree Comics with A Live Reading with Julia Wertz and MariNaomi!:

09/19/2014 By Heidi MacDonald 3 Comments
Rob Liefeld was right! The co-creator of Deadpool has been hinting about a movie for the "merc with a mouth" for years, and he's finally been vindicated, as Fox has announced a Deadpool movie for February 12, 2016. While Ryan Reynolds—who portrayed Deadpool in Wolverine: Origins—hasn't been signed yet, given his decade long opsession with […]

09/18/2014 By Heidi MacDonald 2 Comments
You can read my official SPC report at PW, with news and notes, but I'm guessing that everyone who was at SPX is probably, like me, realizing that the magic is over and we have a whole year to go, or maybe a few weeks if you count APE, but in the meantime, I can keep the magic going a few moments more by rounding up some of the magical, mystical memories of SPX. I said there were a few people who didn't have a good time, and you can find one of two on Tumblr who sat outside hotel rooms sadly waiting for the person with the key to come back. But if you could open your heart, SPX would make you love it. As the above picture shows, SPX is the only con where you can find Julia Wertz and Renee French just sitting and smiling with each other. It's also the only place where someone would leave their computer just sitting out on a table (as one prominent comics personage di don Friday)and feel pretty secure that it would be just fine. There is a reason why people puts up so many pics and blog so much about this show—it's a full on love affair.

09/18/2014 By Heidi MacDonald 8 Comments
Via Facebook, Dark Horse's Director of Publicity Jeremy Atkins has announced he's leaving Dark Horse after ten years:

09/18/2014 By Heidi MacDonald 1 Comment
Fresh off winning a MacArthur Genius grant, and a months-0ong residency at an Umbrian castle, Alison Bechdel has also announced the subject of her next graphic novel. The Secret to Superhuman Strength will be published in 2017 by Houghton Mifflin. Having explored the psyches of her father in Fun Home and her mother in Are you My Mother, Bechdel turns her laser sight on her self:

09/18/2014 By Heidi MacDonald 4 Comments
The good news is that a new issue of THE PRIVATE EYE is available. This webcomcis by Brian K. Vaughan, Marcos Martin and Munsta Vicente posits a world where an eruption in the cloud has made privacy the most valued social element. Oh did you say "torn from today's headlines"? When this started running last […]

09/18/2014 By Heidi MacDonald 3 Comments
@s_k_hanselmann decided to do his Paul Pope impression at @LocustMoon tonight. (He wrote "Paul Pope" on his chest.) pic.twitter.com/q1Rn723BOH — Fantagraphics Books (@fantagraphics) September 17, 2014 We're all for body confidence here at Stately Beat Manor, so go Simon Hanselmann! A lot of brides tone it down after getting married, but he is staying fabulous. […]
09/17/2014 By Torsten Adair 13 Comments
149 titles!   Geoff Johns!  John Byrne!  Colleen Doran!  Geoff Johns!  Harley Quinn!  And "The End" of Fables.  (Well, until they do an annotated edition in 2017…) I've highlighted the titles I found interesting.  What excites you?  Bores you?  Makes you wonder, "WTF…?" Click on the title links for more information.  I've also placed a […]

09/17/2014 By Beat Staff 16 Comments
It's month three of DC's new variant cover ordering scheme, where retailers can order as many of the month's themed variant covers as they want at the regular price. As previously suspected, the Selfie variants do not attract as many additional orders as the Bombshell or Batman 75th variants did. It's hard to tell if that is because of a perceived lack of interest in the covers, or an adjustment based on the previous months, or a combination of factors. Next month DC will have round two of the 3D motion covers, hoping to recapture some of the magic of last year's 3D cover stunt.
This was a down month for DC. Several of their top sellers did not ship in August: Justice League, Superman Unchained and Sandman Overture. Vertigo sales are particularly moribund: the average Vertigo sales of 9,082 per title is the second lowest since Diamond started reporting actual sales back in 2003. (The lowest month was November 2010, at 9,034.) With The Wake over and Sandman Overture shipping sporadically, Vertigo's top seller this month is short-timer Fables.

09/17/2014 By Heidi MacDonald 1 Comment
Can't get enough of Rocket Raccoon and Groot, the dynamic duo that busted 2014 wide open? Marvel thinks you can't and in November will present no less than 20 comics with Rocket and Groot variant covers, by artists including Chip Zdarsky, Ulises Farinas and Tom Fowler.

09/17/2014 By Beat Staff 12 Comments
By Bruce Lidl A number of comics publishers today joined comiXology's no-DRM initiative, and will start offering their titles without digital anti-copying technology. Comixology's announcement at San Diego in July that publishers could now distribute DRM-free focused on a small group of early enthusiasts, including Image Comics, Dynamite Entertainment, Zenescope Entertainment, MonkeyBrain Comics, Thrillbent, and Top Shelf Productions. From conversations […]

09/17/2014 By Heidi MacDonald 2 Comments
The National Book Awards longlist for Nonfiction has been announced  and it includes a graphic novel for the first time.  Can't We Talk About Something More Pleasant, Roz Chast's wry, honest memoir of her parent's fading years, made the list; it was not only the only graphic novel but the only book by a woman to make the […]

09/17/2014 By Heidi MacDonald 9 Comments
Alison Bechdel has been named one of this year's MacArthur Foundation grant winners, often known as a genius grant. Bechdel was cited for being …a cartoonist and graphic memoirist exploring the complexities of familial relationships in multilayered works that use the interplay of word and image to weave sophisticated narratives. Bechdel's command of sequential narrative and […]

09/16/2014 By Heidi MacDonald 3 Comments
By Naif Al-Mutawa [Reprinted from The National. An Arabic version is located here. We first met. Naif Al-Mutawa several years ago, and followed the story of The 99 and Teshkeel Comics, as he attempted to offer modern, constructive role models for youth in the Arabic world. At a time when the world seemed to be in a hopeless […]