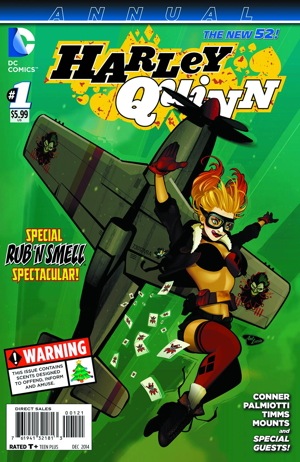 Greetings, sales charts fans! It's time once again to look at DC's sales figures.
After last month's Futures End 3D cover extravataganza, things return to normal in October. DC continued their freely-orderable variant cover program, with the theme this month being Monster covers. The comics with variant covers are still selling higher than they would have without them, but at this point the month-to-month effects are largely subsumed by regular considerations such as creative team changes, crossovers, and standard attrition.
October saw the debuts of several DCU titles, to varying effectiveness. Deathstroke by Tony Daniel and several Batman-related titles did relatively well, while a couple of supernatural-theme books (Trinity of Sin and Klarion) did less so. October was also the debut of the highly-touted revamped Batgirl, which saw the comic jump up to a top-twenty title.
DC's third weekly title, Earth 2: World's End, debuted in October. Here are the first month sales of all three weekly series (plus the most recent issue for BE & FE):